While we absolutely love all the amazing autumnal flavors of Starbucks' fall drinks, we don't necessarily love all the excess sugar and calories. Choosing healthier Starbucks drinks is definitely possible, though, with just a few small changes.
Swaps, like a lighter milk option or sweeteners like honey or stevia, cut down on calories and fat.
However, one of the easiest ways to make a drink lower in calories is to simply downsize. Since 16 ounces is the equivalent of a Starbucks medium, or "Grande," we'll be using the Grande as our reference point for total calories and sugar count.
In Starbucks lingo, that means choosing a "Short" or "Tall" size to instantly reduce calories without changing any of the ingredients.
That being said, we want you to have options for healthier Starbucks fall drinks so you can get your fall flavor fix!
Here's a list of eight delicious Starbucks fall drinks and how to make them better align with a healthy eating plan.
1. Pumpkin Spice Latte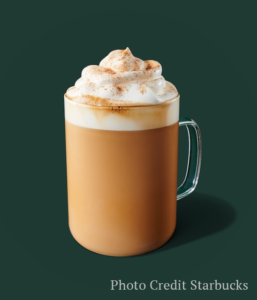 Pumpkin Spice Lattes are such a ubiquitous staple of fall, they're in practically every meme.
But a traditional 16-ounce Pumpkin Spice Latte from Starbucks has 390 calories, 9 grams of saturated fat, and a whopping 50 grams of sugar.
To get a healthier Pumpkin Spice Latte, choose an alternative milk option, such as almond milk, skip the whipped cream, and ask for only one or two pumps of the pumpkin flavoring instead of the usual four.
If you want to know how to make a Starbucks Iced Pumpkin Spice Latte, just go ahead with the above recommendations and ask your barista to pour it over ice.
2. Chai Tea Latte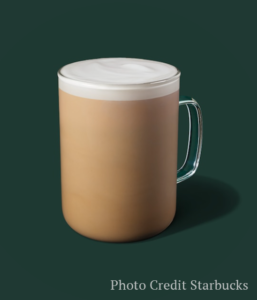 Chai tea lattes are famously comforting and soothing. Unfortunately, Starbucks' Chai Tea Latte is also cloying, registering 42 grams of sugar per 16-ounce serving.
Of course, you can make it lower in calories by reducing the number of chai pumps and swapping out 2% for nonfat milk — but you could also try another trick.
Order a basic chai tea from Starbucks: it has 0 calories and 0 grams of sugar. Then, you can add a splash of your favorite lower-calorie milk option, like nonfat, almond, or oat milk, and sweeten it with a bit of honey or stevia.
The chai tea bag will still give you those warm clove, cardamom, cinnamon, and ginger notes you crave, but the DIY latte element helps you control the amount of added sugar and calories.
3. Apple Crisp Oatmilk Macchiato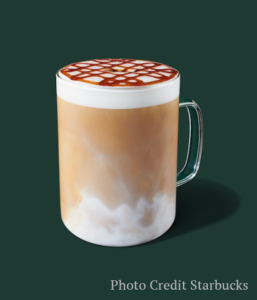 While we love fall apple picking (and apple-flavored everything), we don't love that the Starbucks Apple Crisp Oatmilk Macchiato has 320 calories and 29 grams of sugar in a 16-ounce cup.
You can easily modify it by reducing the number of Apple Brown Sugar Syrup pumps to one instead of three, and choosing unsweetened almond milk instead of oatmilk.
Otherwise, simply omit or go light on the Spiced Apple Drizzle. Choose a short or tall size as well, as this can help cut down on calories and fat.
4. Pumpkin Cream Cold Brew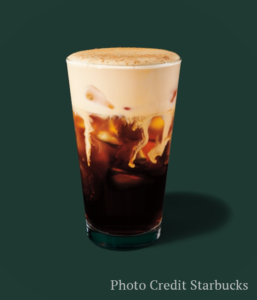 Easily make the Pumpkin Cream Cold Brew lower in calories by switching out the vanilla syrup for honey or nutmeg (to stay on-theme for the holidays).
If you still want that vanilla flavor in this healthier Starbucks drink, ask for a dash of vanilla bean powder. The vanilla notes and pumpkin spice topping give this cold brew that delicious fall twist you crave.
5. Hot Chocolate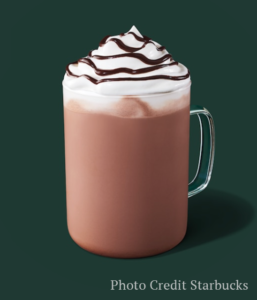 We love a cozy hot chocolate by the fireplace. Luckily, there's a way to cut down on the 37 grams of sugar and 16 grams of fat that a Grande from Starbucks comes with.
Opt for nonfat milk and sweeten with honey, and you can even add cacao powder instead of mocha sauce while forgoing (or lightening up) the drizzle.
Choose this option next time you're craving a chocolatey drink treat.
6. Caramel Apple Spice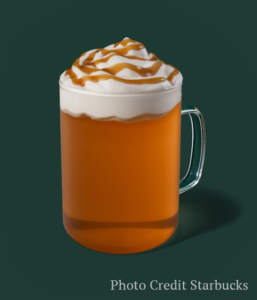 The Caramel Apple Spice from Starbucks is steamed apple juice with cinnamon syrup, whipped cream, and a caramel sauce drizzle.
Instead, ask for a Steamed Apple Juice and spice it up with dashes of cinnamon and nutmeg. Go for a smaller size here, if you'd like to cut down even more on total calories.
7. Cinnamon Dolce Latte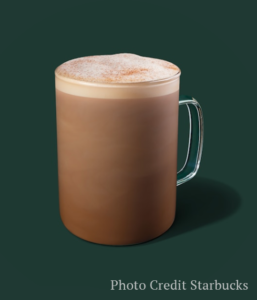 The default formulation of the Cinnamon Dolce Latte includes 2% milk, whipped cream, and four pumps of Cinnamon Dolce Syrup.
Swap in nonfat milk, nix the whipped cream, and top with cinnamon and a dash of honey and you've got yourself a healthier Starbucks drink.
It'll still clock in at more than 100 calories per 16-ounce cup, so just be sure to consider this when evaluating your overall calorie consumption for the day.
8. Vanilla Latte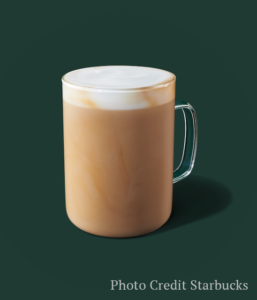 Rather than a traditional Starbucks Blonde Vanilla Latte, try our take on the skinny vanilla latte instead!
Go for a non-dairy milk to make this vegan fall Starbucks drink,
Ask your barista to steam the cinnamon and nutmeg into your milk,
Add a few dashes of cinnamon powder on top to create an even more fall-inspired warm beverage.